Oversight
We advise you with a big picture perspective, paying careful attention to the interrelated aspects of your wealth strategy. Each family is served by a multi-disciplinary team that covers a variety of aspects of the family's wealth. We have depth at each key advisory position in the firm. Team members are engaged and involved in addressing the broad financial issues and best interests of your family.
Onboarding
We shepherd clients through each step of the onboarding process. Our service team eases the hassles of changing investment firms and facilitates every step of the way. Our goal is to conserve your time and ease the administrative burden of opening accounts, transferring assets and implementing or rebalancing portfolios. We institute technology and commit the resources to provide close attention to detail, frequent communication and convenience to ensure the transition runs smoothly.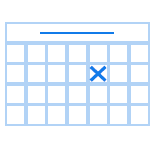 Meetings
We strive to meet with you quarterly. Regular communication — even a very short planning session — allows us to catch up on new developments in your life, review your finances and investment portfolio and track your progress. Topics of discussion typically include taxes, estate planning, investment performance and rebalancing, the current economic and legislative environment, other assets such as company stock, private businesses, and real estate, and planning for upcoming events.